Welcome to Jill Culver Creations!
My journey into painting has been a magical one. I was in my mid 40's and had always secretly felt there was an artist in me. A corporate layoff gave me the courage to jump in and find out. I threw myself into my art and discovered my life purpose of doing 'Soul Work'. I paint two types of portraits. One is what you might consider normal portraiture. The other, very uniquely includes intuitive imagery and messages that come though in a meditative process. I hope you'll enjoy browsing through the galleries of the Portraits as well as checking out my book, card decks and greeting cards below.
Soul Stirrings Card Deck
I love working with oracle card decks. This deck includes 44 cards, each with collage artwork and a thought provoking quote.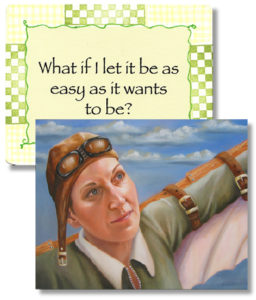 Personal Inquiry Card Deck
Are you introspective and looking to open your intuition and access your Soul? This card deck is a great tool to help you on your journey.